Shopping Tips &nbsp

---
When you finally decide that the woman inside must enter the ouside world, most of us girls don't have all the 'accessories' to dress up.
When you're having difficulties in finding the right attibutes to change from 'HIM' into 'HER', this page might be of some help to you.

With this page I try to provide you with some tips for shopping for female articles.

---

Lingerie
Buying lingerie nowadays is more common, since men also buy that as a present for their wife/girlfriend. So you don't have to have any doubts about stepping into a lingerie store.
The clerks will be very helpfull and understand that when you are not so familiar with this.
Important is the size of the cup (mostly B or C) and the size of the bra. In Europe they have different measurements then in the US. In Europe they measure the size of your breast, just at the place where the bra is supposted to fit (in cm).
If you also want a matching panty, you can ask for that.
For addresses look at the bottom of this page.

---

Wig
The wig is most of the times one of the most important items to purchase.

As you can find on the web, there are many models and colors.
There are several ways to purchase a wig. First ofcourse is ordering a wig via the internet or any other catalog sale. There are also many 'transformation shops', but you can also visit a normal wig store. You can first give them a ring and ask if they can help you as a transvestite to choose the right wig. Believe me, that this very common for these people.
When you have decided where to buy or try a wig, you'll have to think about the model and color of the wig.
Model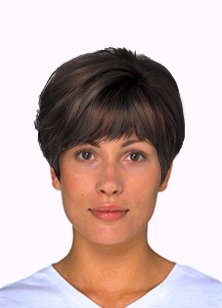 To choose the right model, it is important to know what kind of character you want to be as you female yourself. Keep in mind that the best clothing length is the same as most of the woman your age. Why don't have a cup of coffee at a coffee corner in a mall and watch the women who are shopping.
To give a brief overview, here is the same woman with different length and models.







Color
The color is very difficult to choose. Not everyone looks good as a 'blonde'
To keep on the safe side, you choose the color quiet next to your natural color.
TIP
When you buy your first wig, don't buy an expensive one: When you don't like it later you didn't waste a lot of money.
For addresses look at the bottom of this page.

---

Shoes
Shoes are also very important for the CD/TV.


Keep in mind that men have most often larger feet then the opposite sex. Also the foot is wider. So when you have problems finding shoes in your size, you can order them at specialised addresses. Also the 'transformation shops' have most of the time a large selection.
In our country there are several shops specialised in larger shoes and CD/TV are welcome.
For addresses look at the bottom of this page.

---

Stockings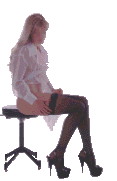 Many CD/TV can't or won't get rit of their hair on their legs, so you'll have to use thicker stockings. Also most legs of men are longer, so that's why most of the average stockings are not suitable for use by CD/TV's.
Ofcourse you can buy and try the stockings which you can buy at the stores. When you find a suitable size and color, buy some sets more.
For addresses look at the bottom of this page.

---

Make-up
To buy eye-shadow, eye-liner, lipstick, mascara, blushers is not too difficult.
If you don't know the right colors, you can ask for assistance at the store. By asking that you want to surprise your wife with the latest colors, they will help you to make the right selection. Don't forget to ask to wrap it as a present;-)
Make-up is a different story: the standard make-up doesn't have a high % of pigment. Therefore you'll need professional make-up. You can buy this at the theatre shops or For addresses look at the bottom of this page.

---

Clothing
This is always the most important part. It depents on the way how you want to look like.
The most easy way to buy clothes is through postordering. You can choose your size by the size chart. When they don't fit, you can return them.

For addresses look at the bottom of this page.

---

Jewelry

To buy jewelry is more difficult than it looks like. Most of us have larger wrists then women, so the bracelets are too short. For a neckless, you have different sizes, so measure the length.
To buy a ring, is most of the times also more difficult. You can measure the diameter of the ring and look at a postorder catalog if the right size is available.

---

Addresses
For shopping addresses in the Netherlands: Click here and visit the site of my dutch friend Judy Dross.

---
This page hosted by
Get your own Free Home Page